This Amp will rock the amp world. A third generation design after many many hours of research and listening.
A stunning 50 watts are provided by a KT66 duet. An unique preamp design provides total control for live performance and studio applications. The rich harmonics will ensure many musical styles. But be aware : the amp is very accurate, responsive and expressive!
For a dynamic, natural response an EF86 penthode tube is used for first stage witch can be set to a higher or lower gain using the gain switch.
The first stage and gain control are followed by the second stage and the driver for tone control which is build around a 6SN7.
This provides a sweetness in tonal character by its nature.
Before the signals hits the preamp out buffer and the master section there is another part where some of the magic happens.
AA filter section is inserted that controls the overal Low and High levels of the amp without effecting the tonal character made with the tone controls.
This filter section helps you adapting your amp to its enviroment.
MMaster A and Master B are equal controls.
For instance : Either A or B can be set as Solo level or to match another guitar level.
When developing this amp the goal was to achieve a pedal loving, expressive amp that enhances your playing !
This amp is completly made and wired by hand. No printed circuit boards with the exception of one small pcb for mounting relays.
Specifications:
Power:                50Watts
Channels:          One Channel
Preamp tubes:

EF86 first stage
6SN7 second and tone control
12AT7WC (Ecc81) Preamp out buffer

Power amp:

12AT7WC (Ecc81) Phase Inverter
Duet KT66

Rectifier Tube:
controls:

Gain
Bass
Treble
Master A
Master B
Presence

Switches:

High/Low gain
Deep, on/off
Bright, 3 position toggle switch
Low,  7 position rotary switch
High, 7 position rotary switch
Play/stand-by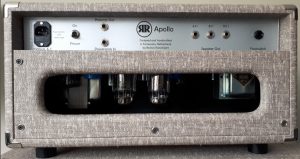 Finding the perfect match:
What is an amp without the speakers?
For the Apollo we were searching for speakers that keep the tone steady from quiet to all the way up the highest levels! We ended up with tone tubby's.
From now on, all new Apollo's will be equipped with a ceramic (the Winterland) and alnico (Purple Haze) speaker as a set.
This set, also called "The new H-bomb" lets you experience all the amp has to offer. You will hear and feel the music!
An important note : the amp and cabinet are sold as a set because they are 'made for each other'.
Set price is € 3599,-
When you want to try it out or when you need more information, please , contact us.